Facebook Chatbot: Here are 10 of the best
See our picks for the most fun and useful chatbots you'll want to use everyday!
---
StarHub Blogger,
12 April 2018
---
Powered by Artificial Intelligence or human-defined rules (or a mix of both), a chatbot is a digital assistant that provides you a service – from helping you choose a pair of shoes to giving you medical information or even being a friend in your time of need. All you have to do, is chat with it.
You can talk via Facebook Messenger, Telegram, mobile app, website and more! There's pretty much a chatbot for everything. And to help you dive in, we've picked out 10 very useful and/or fascinating chatbots you must try today on Facebook Messenger!
---
We've all suffered from the paradox of choice when it comes to Netflix. And Chill asks you to tell it one movie you like and why, so it can recommend you movies based on your answer. It pushes shows from the U.S. catalogue of Netflix so you may not find some of the recommendations. But it's still a great, quick way to decide on a movie to watch!
If you don't know about TaxiBot yet, you've been missing out! Tell this SG-made Facebook chatbot which service you want to use (Uber / Grab / Comfort) and it'll show you promo codes if any, for ride discounts. Simple and effective.
Meditation can be challenging to cultivate. That's why MeditateBot is a personal guru who can help make this daily habit that much easier. It lets you set your own schedule for when you wish to practice and sends you timely reminders. You are guided through very manageable 10-min "daily calm" audio sessions with goals and moods like "gratitude", "resilience" and "letting go". Over half a million people are using this chatbot every day.
On the theme of well-being, we strongly suggest you check out Woebot. Created by AI geniuses and Stanford psychologists, this friendly and charming Facebook chatbot/mobile app is designed to help people cope with feelings of depression and anxiety. It applies Cognitive Behavioural Therapy (CBT) in its exchange with you, tracking your mood, helping you make sense of your emotions and sharing strategies so you can grow to gain new, healthier perspectives. While it's no substitute for an actual therapist, Woebot has proven to be a powerful 24/7 self-help companion for anyone seeking clarity or insight with their daily stresses.
This Facebook chatbot lets you create your own meme in seconds. You start by searching for an image, pick a trending one or upload your own. Then you type in your award-winning quips and huzzah! It generates your very own unique meme which you can immediately share. MemeGenerator Bot is a fun, hilarious way to spice up daily Messenger conversations with your friends.
6. Duolingo (chatbot feature)

Okay, this isn't a Facebook chatbot yet and is currently only available as an iOS app. But Duolingo was Apple's iPhone App of the Year and is simply the best language-learning tool out there. Its latest feature uses chatbots which engage you in conversations in real-life scenarios (hailing a taxi, ordering pizza). Right now, the chatbot feature supports Spanish, French and German, with more languages to come!
With an expert network of over 108,000 doctors and practitioners, you can ask HealthTap any medical question and it'll give you trusted information and tips. It's not personal medical advice, but HealthTap is a wonderful 24/7 resource whenever you're seeking immediate answers to ailments, symptoms or even embarrassing bodily experiences.
If you want a painless way to search for flights, Skycanner's Facebook chatbot comes pretty close. You tell the chatbot your trip details and it presents you with a host of flight choices from various airlines. You can see the best deals, get route tips specific to your destination, set price alerts or filter results for the shortest flight durations. It's nothing short of miraculous.
This local hero gives you real-time bus arrival timings, public transport directions plus highly entertaining small-talk and jokes. Best of all, it's delivered via the personality of a Singaporean uncle. With this, you might actually enjoy waiting for the bus.
We all love to hate dad jokes. Or maybe we all hate that we love them. Whichever it is, gems (or nightmares) like "When you've seen one shopping centre, you've seen a mall." will always guarantee a reaction. Dad Joke Bot is your essential source for an endless supply of cringey, punny, deadpan and downright embarrassing liners. They're so dad, they're great.
Well, that's our best-of list! Most of them have mobile app versions you can check out too. While voice assistants like Amazon Alexa, Google Assistant or Apple Siri are the newer and shinier conversational platforms, chatbots still have plenty to offer. From customer service to healthcare to entertainment, you can fulfil your needs and wants through conversations that will only get more intuitive, natural and seamless as technology progresses. So why not talk to a chatbot today?
---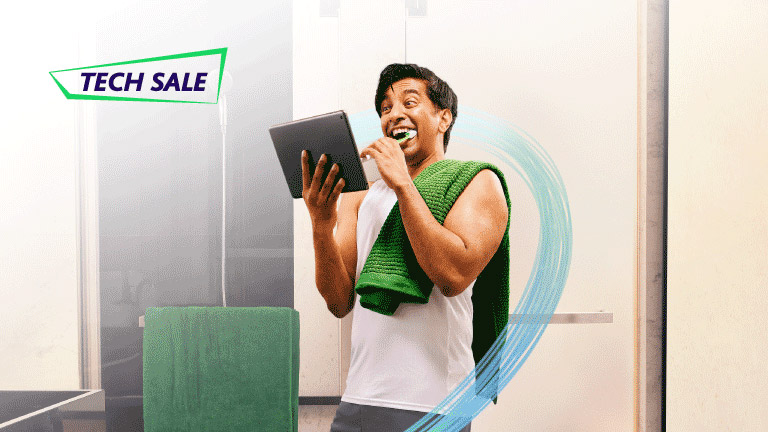 The Top 4 StarHub Deals you WON'T find at the IT SHOW 2023
---
This year's IT SHOW has arrived, and that's great news. Even so, make sure to check out some of these other, online-only deals from StarHub too!
Read more