Feel the adrenaline with our extensive sports coverage
NBA
Don't miss your favourite teams like the Heat, Lakers, Nets, Bulls and Pacers battle it out in the brand new season!
WWE
Get your fill of the best WWE wrestling action with StarHub TV. Don't miss the regualr WWE action with weekly shows such as WWE RAW, SMACKDOWN, Bottomline, Afterburn, NXT and more.
Golf
Enjoy the most comprehensive golf coverage, all year round. Catch all the 4 Golf Majors, only on StarHub TV.
Tennis
Catch all the top tennis events, all year round, on your TV, laptop, tablet and smartphone.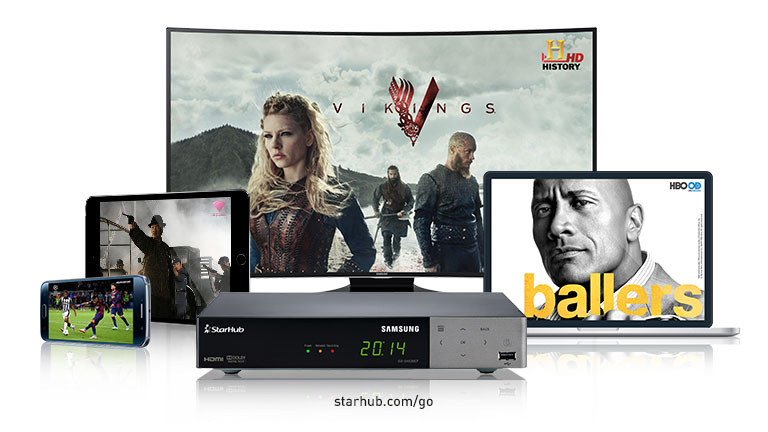 Watch on multiple devices with StarHub Go
Catch your favourite shows on your mobile phone, tablet or laptop, at no extra cost.
Find out more

Never miss another movie or drama.
With Video On Demand, scores of exciting shows are at your fingertips. Now there'll be something to keep you entertained, during those stay-home weekends.
Watch the shows you've missed at no extra cost!
Play, pause, forward, rewind. Watch the shows you've missed On Demand, at your own time, at no extra cost.
Find out more

Record now, watch whenever.
Never miss an episode again when you can record your favourite shows with your set-top box and watch later.
Find out more

Cozy up with HomeHub, and save over $300 a year!
Enjoy TV, broadband, Digital Voice and mobile broadband with HomeHub - the best bundle for your home.
Find out more

Get more out of your TV.
Enhance your TV experience with our Instant Buy, Start over and Catch Up functions. Plus, get updates on weather, finance, traffic or lottery just by accessing Apps on Ch 899.
Find out more

Sign up for our entry pack today, and save over 35%!
Start watching up to 67 TV channels at less than $1 a day ($26.75/month). It's a deal you won't want to miss!